Project objectives
The overall goal of the BOOSTER project is summarised in the figure below.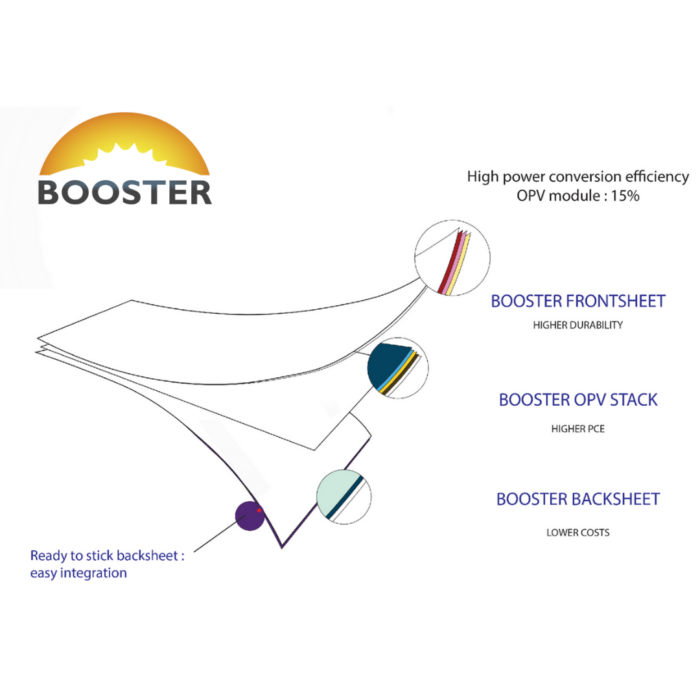 The specific objectives of the project are:
To optimize the upscaled production of Non-Fullerene acceptor (NFA)
Optimize the synthesis process of printable non-toxic charge transport layer materials (ETL and HTL)
To develop multifunctional frontsheet demonstrating gas permeation barrier (< 5.10-4 g/(m²d) at 38°C/90% r.h.), UV-protection (cut-off wavelength > 380 nm), and light-management (> 20% scattered transmission)
To integrate aluminium backsheet to reach a device lifetime of 35 years, at low cost
To setup roll to roll (R2R) manufacturing of OPV modules to demonstrate 15% of efficiency at industrial scale
To manufacture and integrate OPV modules in order to provide ready to stick BAPV and textile products
To perform Life Cycle Assessment
Project work packages
The structure of the BOOSTER project follows a clear and logical pattern to achieve the outlined objectives in the most efficient way:
The project will start by identifying specifications for the advanced materials and demonstrators respecting requirements driven by the end-users (WP1)
The next step will be the optimization of the structure of existing high efficiency NFA and interlayer materials in order to provide novel multilayer architecture with high efficiency and stability (WP2)
In WP3, the next generation multifunctional frontsheet will be developed with performance targets as regards to the gas permeation barrier, UV-protection and light management.
The objective of WP4 will be to produce large volumes of optimized PET substrate for frontsheet barrier film. In addition, processes will be optimized for the R2R coating and encapsulation with aluminium backsheet of OPV modules.
WP5 will include the production, installation and monitoring of ready to stick BAPV and textile integrated products based on the OPV emerged from WP4.
WP6 will address Life Cycle Assessment and cost analysis of OPV modules. It will also establish a quantitative correlation of between accelerated indoor testing and outdoor testing.
Throughout the project, results will be well disseminated on various levels. The project will also include a design competition for new applications and preparation of a commercial roadmap for exploitation of the technology after the project ends.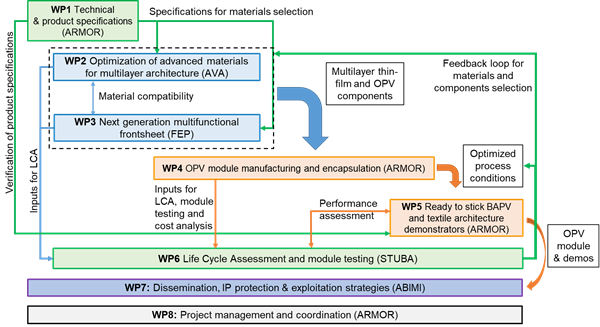 PROJECT IMPACT
The BOOSTER project will make a significant contribution to the technological development of thin film OPV modules. The project will have the following impact:
Cost reduction of the innovative thin film devices. The BOOSTER strategy is to lower the costs of the innovative thin film device though the use of cheaper and more efficient raw materials and their optimized industrial production. BOOSTER aims to reduce the current costs of OPV modules from 270 €/m2 to 90 €/m2.
Environmental impact and preliminary life-cycle assessment. In BOOSTER, the LCA evaluates not only the energy payback time (EPBT) but also the environmental impacts per unit of area (i.e. impact ascribed to 1 kWh of produced electricity). The EPBT of OPV modules is calculated to be 3 months, in comparison to 1.7 to 2.7 years for silicon-based photovoltaic modules.
Significantly increased efficiency, stability, device lifetime (> 35 years) and performance. BOOSTER, with the implementation of high-performance materials is targeting to increase more than 3 times the efficiency at module level (from 5% to 15%) of the current commercial printed OPV modules.
Novel PV applications and new routes for strengthening the EU PV manufacturing industry. To reach additional sectors, the project will organize a competition on novel applications for the next generation thin-film OPV developed in the project.
OPV PRODUCT DEMONSTRATION
BOOSTER will manufacture and integrate OPV modules in order to provide demonstrators for ready to stick BAPV and textile products
These demonstrators aim to validate ready to stick BAPV module real installations at ENI and a demonstrator in textile at the FAU research building. Those realisations permit to show concrete products with OPV and how they can be installed and used in real conditions. 100 m2 in ready to stick and 25m2 in textile product will be produced and installed in the BOOSTER project.
Demonstrator 1. Ready to stick BAPV module
Demonstrator 2. Textile architecture demonstrator